A night to meet people from around the world, over a simple shared meal and build stronger connections across faiths and non-faith communities – we are delighted to invite you to the Greens third annual community Iftar dinner.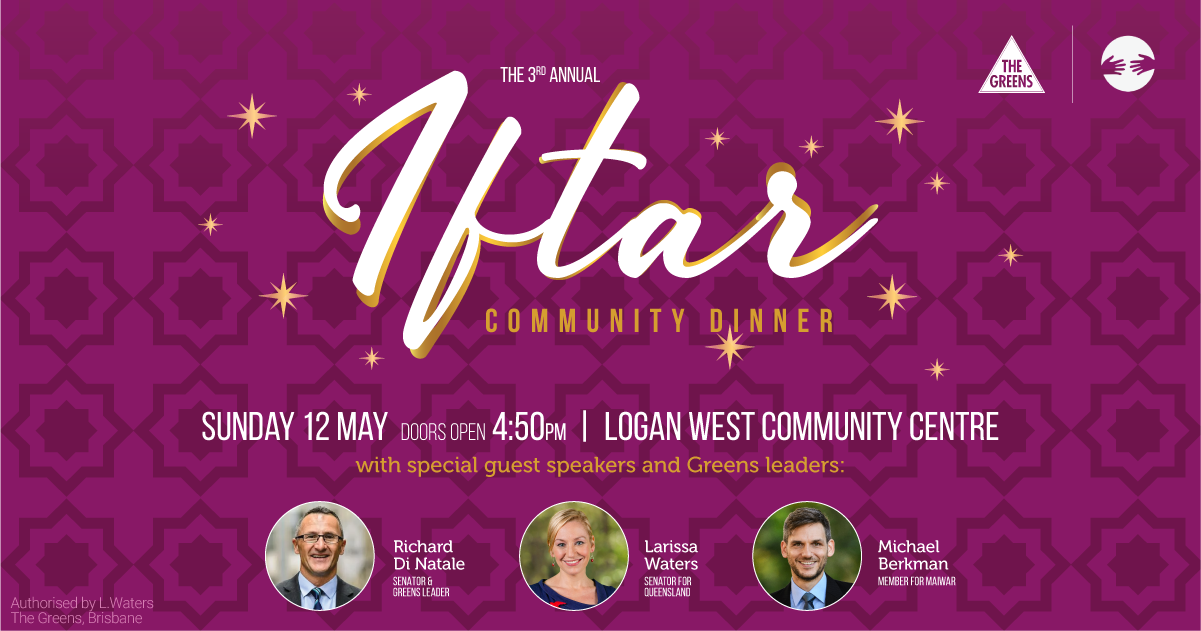 Iftar is the name for a community dinner held daily after sunset to mark the end of a day of fasting. Ramadan, the ninth month in the Muslim calendar, is a special time for the Muslim community. During the month of Ramadan, Muslims worldwide fast from dawn to sunset to achieve greater self-discipline, self-purification, and compassion for those less fortunate. 
Join us to share a meal on Sunday 12 May at the Logan West Community Centre.
This event is open to people of all walks of life. Everyone is welcome to come along, whatever your religion or cultural background. 
Funds raised on the night will go to Refugees Welcome Australia (RWA), which help refugees and people seeking asylum by providing long-term and stable accommodation with local residents who have a spare room in their house or apartment. Housing is a human right! By providing a foundation of stability, people who find housing through RWA are able to re-start their lives, rather than worrying about where they will live and where they will get their next meal.
12th May, 2019 4:50 PM through 7:45 PM
2 Wineglass Drive
Logan West Community Centre
HILLCREST
QLD
4118
Australia
| | |
| --- | --- |
| Waged | $ 10.00 |
| Unwaged | $ 5.00 |
| Family (up to 4 people) | $ 20.00 |
| Pay it forward (1 adult + 1 ticket for another person who may not be able to afford their ticket) | $ 20.00 |